Choose the evolution
AXS Sensor System
Decrease the negative effect of vibrations
Industry
Machining, milling, micromechanics, many production methods suffer from vibrations
Sports
In motorsports, golf, tennis, ski, bike and so many others vibrations distract the athlete from his skills and waste his energy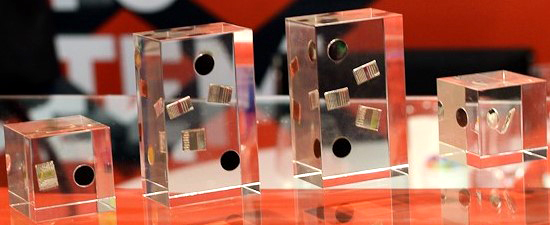 About the system
The goal
Reduce the amplitude of vibratory waves
The AXS is as an optimization technology. Its roots lie in racing. At first was born a multilayer condenser allowing a substantial increase of energy in the ignition system by improving the combustion phase. Later unexpected effects have been noticed, in particular a reduction of the vibratory field of the materials and their components could be seen. The condenser's weight (1 gr) and its dimensions (15x10x2 mm), in addition to its flexible way of mounting by simply sticking it onto the designated part opens a wide area of application of the today called AXS Sensor System.
The sensor works directly in the material, be it liquid, solid or gaseous. It does not need any external energy input, since the resonance of the material, upon which it is applied, is enough to make it work. This feature is the results of the potential for interaction between the sensor and its support. A number of laws and physical principles are the basis for the AXS System. Here are the most important ones: Coulomb's law, Elastic modulus (Young), Fermi level. The Couette flow allows to confirm the laminar effect of liquid and gaseous flows.
AXS
Industry, machining & micromechanics
Short term findings
Reduction of vibrations on the whole machine
Global improvement of machining
Better homogeneity of surface finishes
Medium & long-term findings
Decrease of scrap rate
Improvement of rolling & cutting tools lifetime
Bigger gap between sharpening
Less machine maintenance and stoppage
AXS
Sports & Automotive/Transports
In the field of sports like biking, skiing, golf, tennis, etc. the AXS System leads to a higher comfort and a better performance. Also for motorsports, Moto GP, motocross, kart racing, automotive, 4X4, etc.
Practically speaking, what are the benefits?  
More user comfort
More stability and speed
Race performance improved up to 10%
Less physical pain, less fatigue
Better ranking, so better visibility for sponsors
And globally, more pleasure in sport
The AXS System can reduce fuel consumption, a key asset for road transportation. Also with regards to the environment, the AXS System allows not only to safe money but also to reduce pollution.
Decrease of fuel consumption to 10%
Improvement of ignition system, injection and carburetor for old vehicles
More driving efficiency and comfort, the vehicle drives one gear higher
AXS
Engineering High School ARC