Axx'Bike
" This is how it feels:
Converters on the handlebars: less stress on the hands and ankles

Converters on the frame: the bike is more stable and stiffer in some places, which makes it more efficient

Converters on the wheels and tyres: the lines are better held, the bike is smoother and more stable

Converters on the Suspension: the suspension now has a little more support with a combination of stiffness and smoothness."
Nino Schurter – Mountain Bike Racing – SCOTT-SRAM MTB Racing Team – Switzerland
Axx'Comfort
"Being rational, logical and methodical, I installed the Axx'Comfort on my bike without conviction. A feeling that is difficult to describe but an incredible feeling on the bike with a thought at the end of a descent, I'm already at the bottom? The lack of conviction has given way to addiction. For the moment it remains "mystical" for me, but in this descent it was as if I was missing parts of the road. I had the feeling that everything was going by very fast."
Philippe Thalmann – Road – Switzerland
Axx'Comfort
"I feel like I'm rolling on a carpet."
According to her husband, she apparently beat times that she hadn't come close to for two years!
Valérie Thalmann – Road – Switzerland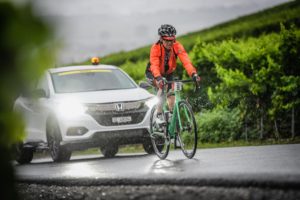 Axx'Comfort
"As soon as I started riding, I felt something different on the handlebars.
Even on the tarmac I immediately felt a smoothness, as if something was neutralizing certain frequencies that are harmful to comfort and fatigue.
For me it is undeniable that the front part has become much more comfortable than before putting the chips.
The front became so comfortable that the rear became bouncy and less comfortable than before the comfort chips were added to the cockpit.
In reality the rear has not become harder, but the fact that the front is more comfortable allows slightly higher speeds on parts with roots and/or very close obstacles.
Putting two chips on each chainstay just above the rear wheel hub axle has resulted in a very even front-rear balance. And at the same time gained extra comfort and grip on any type of terrain."
Cédric Vilbert – Connondale Super X (Carbone) – Switzerland
Axx'Comfort
Nadine: "1st real test and on a long course of the "pastilles" AXXIOS that absorb vibrations. I may as well tell you that I was a bit skeptical at first but I must admit a clear improvement in the comfort and stability of the bike, especially on descents and in the scree where I went much more smoothly and serenely than without…"
Fabien: "The AXXIOS Technology pellets are just exceptional and bluffing efficiency, a fluidity, motricity and stability allucinante!!! Monstrous time differences on the way up but on the way down… the gain is downright abysmal!"
Nadine & Fabien – CSLG Cycling 07 – Scott VTT – France
Axx'Comfort
"Yesterday afternoon, Nadine and I took part in a special test… the anti-vibration tablets (among others) of the brand Axxios Technology.
Many of you will either laugh, say that it is impossible and that it is at best a placebo effect, at worst a scam… Well, we will answer you that it is necessary to test to make a real idea of these tablets!
Precisely concerning the test (of 3 hours!) we are totally conquered and bluffed!!!
The effects:
– Very very clear reduction of the vibrations of the bike as a whole.
– Stability bluffing, with gains of the order of 4 to 5km / h in delicate curves!
– Disconcerting fluidity of the bearings (hubs and crankset).
As a result, the bike is more stable, fluid and responsive while having a much greater comfort, result in downhill the time saving is abysmal and uphill 10 heartbeat less to go at the same speed as without the pads 😱
What more to tell you? Don't hesitate to test them to make your own opinion, you might just not want to do without them anymore 😃"
Fabien Tardieu – Scott VTT – France